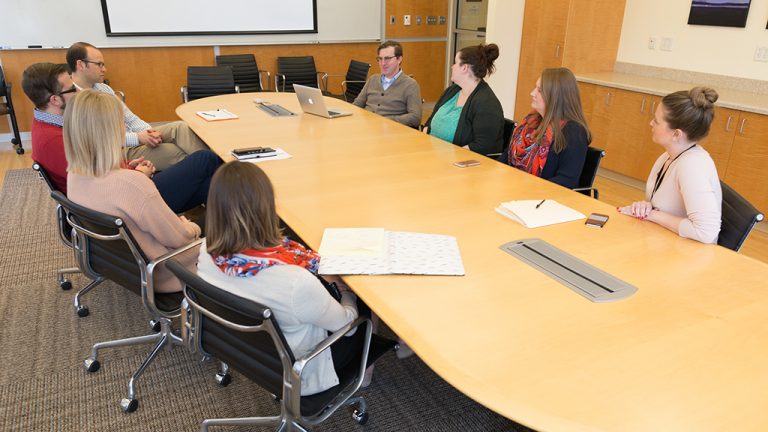 Elective Opportunities Across All Tracks


There is a broad array of electives to choose from, and your track director will work with you individually to put together a training year that best supports your professional growth. Interns are encouraged to sample electives from any track (adult, child, and/or pediatric psychology) to broaden their experience.  All interns participate in their elective experiences for 1 day weekly throughout the internship year.
---
Acceptance and Commitment Therapy Group (adult-focused)
The ACT Group involves assessment and treatment of anxiety and depression using ACT-based principles for adults. Specific clinical activities include evaluation of appropriateness for group, coordination of care with referring providers, lead group sessions, and provide individualized skills coaching. Interns will have the opportunity to learn functional based assessments and case conceptualization from the ACT framework. Previous experience with ACT is not required. Supervisor: Daniel Dickson, PhD.
---
Behavioral Sleep Medicine (adult-focused)
Interns have the opportunity to assess and treat adults with sleep disorders who are appropriate for cognitive-behavioral interventions.  Depending on the interest and experience level of the intern, the rotation includes opportunities for behavior sleep medicine consultation and cognitive-behavior therapy for insomnia, light therapy for delayed sleep phase disorder, and other evidence-based cognitive-behavioral interventions for sleep disorders. Prior experience in sleep disorders is not needed.  Supervisor:  Meredith Rumble, PhD and Daniel Dickson, PhD.
---
Cancer Psychology (adult-focused)
This elective provides an opportunity to assess and treat adults with cancer and their families across the cancer continuum, including diagnosis, treatment, survivorship, and end of life, and to provide care as part of a multidisciplinary health care team.  Specific clinical activities are based on the intern's interest and availability, and may include outpatient psychotherapy, co-facilitating a group for cancer patients, providing assessment of candidates for blood and marrow transplantation (BMT) and consultation on the BMT inpatient unit, among other possibilities.  Interns have opportunities for shadowing both psychologists and other health care providers.  Prior experience in a cancer setting is not needed.  Supervisors:  Erin Costanzo, PhD, Lori DuBenske, PhD, and Lisa McGuffey, PhD.
---
Eating Disorders (child- and young adult-focused) 
Interns will have the opportunity to assess and treat adolescent and young adult clients with eating concerns. The intern will learn about multidisciplinary approaches to care for the complex psychological and physical health issues that individuals with eating disorders may face and will work to coordinate care with nutrition, physician, and psychiatric providers. Focus will be on application of behavior therapy for eating disorders, including family-based treatment and acceptance and commitment therapy. Prior experience with eating disorder treatment is not necessary. Supervisor: Katherine Schaumberg, PhD.
---
Inpatient Pediatric Consultation Liaison (pediatrics-focused)
The Pediatric Inpatient Consultation Liaison Service receives routine inpatient consults from the pediatric rehabilitation, trauma, pulmonary, endocrine, Neonatal Intensive Care Unit, bone marrow transplant, and hematology oncology services. Additional referrals come from the G.I., neurology, transplant, cardiology, orthopedic, and neurosurgical services. Interns perform an initial assessment of a child's cognitive and emotional status, and then work closely with the child to assist coping with hospitalization as well as significant medical problems.  Family intervention is a significant component of this service.  Interns are expected to attend and participate actively in team meetings and provide consultation regarding behavioral management, coping skills, and adherence to the medical regimen.  Supervisors:   Stephanie Farrell, PhD and Emily Schweigert, PhD.
---
Mansfield Hall (child-focused)
Mansfield Hall is an innovative college support program offering a living and learning community for students with disabilities. Mansfield Hall's mission is to build a community that empowers and supports students with diverse learning needs to earn a college degree, develop authentic living skills, and create a meaningful life. Interns who participate in the Mansfield Hall elective will spend one half-day per week on site collaborating with the multidisciplinary staff and providing therapy to young adults with diverse mental health needs (including those with Autism Spectrum Disorders).  Supervisor:  Jason Horowitz, PhD.
---
Mindfulness for Anxiety (child-focused)
This elective involves assessment and treatment using mindfulness-based cognitive therapy for anxiety disorders in children ages 9-12. The assessment process includes interviews with the child and parents, administration of questionnaires and rating scales, and consultation with UW Psychiatry child clinic staff.  Patients who meet specified criteria may then participate in an 8-week mindfulness-based group.  Interns have the opportunity to participate in the assessment and serve as a co-facilitator of the group that involves both children and parents.  Supervisor:  Stephanie Steinman, PhD.
---
Neuropsychology (adult- and/or pediatrics-focused)
Clinical experience includes learning about neuropsychological assessment measures and approaches to assessment with a focus in an adult and/or pediatric population. Interns will staff cases in the clinic with faculty, participate in medical record review and clinical interview, and review and interpret test results with faculty and relate to pertinent literature.  Patients are referred from throughout the medical center. Supervisor:  Alanna Kessler-Jones, PsyD and Hayley Crane, PsyD
---
Outpatient Health Psychology (adult-focused)
Interns will have the opportunity to assess and treat adults with primary presenting concerns related to a medical diagnosis; for example, coping with chronic pain or disability, adjustment to a new medical diagnosis, or anxiety affecting medical treatment. The intern will learn integrative biopsychosocial assessments and will apply cognitive-behavioral and mindfulness-based treatments for this patient population. In addition, the intern will learn behavioral treatment for symptoms common with medical illness, including fatigue, sleep disturbance, and pain. Prior experience is not needed. Supervisor: Erin Costanzo, PhD.
---
Primary Care Behavior Health (adult-focused)
Interns complete this rotation at Access Community Health Center, a non-profit organization with the mission of providing access to high-quality, affordable health care to those who otherwise face financial, cultural, or language obstacles.  Access uses a Primary Care Behavior Health model, a model of integrated care that places the mental health professional directly alongside the primary care provider to intervene.  Cases are varied, including smoke cessation, depression, ADHD, or a range of medical issues.  Interns learn how to perform brief functional consults and communicate recommendations both to the PCP and patient effectively and efficiently.  The supervision is immediate with the trainee working alongside a psychologist and learning how to present cases efficiently.  Supervisor:  Meghan Fondow, PhD.
---
Research Elective (adult- and/or child-focused)
Interns may choose to engage in additional research time through an elective either with one of our core training faculty in their research or another researcher of interest at UW.  Our core training faculty offer research electives in neural signaling of cortisol in depression (Heather Abercrombie, PhD), neurocircuitry of PTSD (Josh Cisler, PhD), psychosocial oncology (Erin Costanzo, PhD), understanding and treating trauma-related mental illness in youth (Ryan Herringa, MD), neurobiological basis of fear, anxiety, and depression (Ned Kalin, MD), and insomnia (Meredith Rumble, PhD).
---
School-based Psychotherapy (child-focused)
Interns who participate in the Madison Metropolitan School District rotation will spend one day at week at Sandburg Elementary School on Madison's northeast side or at Madison East High School. Sandburg serves a diverse and high-need population and provides dual-language immersion programming for children from 4K to 5th grade.  Madison East High School is a large public high school serving a diverse community with multiple mental health needs. Supervisors:  Jason Horowitz, PhD or Rene Staskal, PhD.
---
Unified Protocol Group (adult-focused)
The Unified Protocol for Transdiagnostic Treatment of Emotional Disorders Group provides CBT based interventions including mindfulness and exposure-based interventions in a group format. Interns will have the opportunity to complete assessments for appropriateness for group, lead group sessions, and review skills practice. Assessments include a diagnostic interview and administration of questionnaires and rating scales. Interns will learn to apply the transdiagnostic approach to therapy including case conceptualization, skills coaching, and evaluation of emotional disorders. Supervisor: Daniel Dickson, PhD.
---
VA PTSD (adult-focused)
The PTSD Clinical Team (PCT) at the Madison VA Hospital provides outpatient treatment to Veterans with PTSD, regardless of whether the trauma originated during military service (e.g., combat, sexual trauma) or prior to service (e.g., childhood abuse).  Both group and individual treatments are offered.  Interns will receive didactic training in Cognitive Processing Therapy (CPT) and Prolonged Exposure (PE) therapy.  Interns will also have the opportunity to learn a number of other treatments for PTSD such as Anger Management, Behavior Activation for PTSD, and PTSD Class for Couples. Interns on this rotation will receive individual and group supervision within the interdisciplinary PCT setting. Prior experience with exposure-based treatments is preferred but not required.  Supervisor:  VA faculty.
Seminars
Below is a sample of diverse topics discussed in our shared seminar series on Thursday mornings with adult, child, and pediatric psychology interns.  Madison VAMC psychology interns and UW Psychiatry residents also participate in some of the below seminars.
Longer Series:

Acceptance and Commitment Therapy
Behavioral Therapy for Sleep Disorders
Dialectical Behavioral Therapy
Interpersonal Psychotherapy
Mindfulness-Based Cognitive Therapy
Multicultural Practice and Diversity
Psychodynamic Therapy
Process-Based Cognitive Behavioral Therapy
Unified Protocol
Alcohol and Other Drug Abuse
Pediatric Psychology
Psychopharmacology
Ethics Discussions
Professional Development
Psychotherapy Demonstrations
Research: Faculty and Interns
Supervision
Shorter Series:

Autism Assessment and Treatment
Behavioral Activation
Cancer Psychology
Crisis Management
Eating Disorders
Family Therapy
Gender Transitions
Interpersonal and Social Rhythm Therapy
Motivational Interviewing
Normative Human Development
Postdoctoral Training
Practical Uses of Our Electronic Medical Record
Primary Care Behavioral Health
School Psychology
Sleep Assessment
Workshops:

Cognitive Processing Therapy
Prolonged Exposure Therapy
Self-Care
Multicultural Practice and Diversity