Ketty Thertus, M.D.
Position title: Assistant Professor (Clinical Track)
Address:
Pain Management Clinic
1102 S. Park St.
Madison, WI 53715
UW Health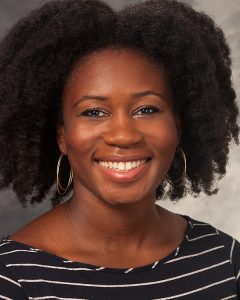 Ketty Thertus is a Clinical Assistant Professor in the Department of Psychiatry at the University of Wisconsin School of Medicine and Public Health and a psychiatric consultant at UW Health Pain Management Clinic. She is Director of Consultation Liaison psychiatry, overseeing medical-surgical and emergency room adult and child/adolescent psychiatric consults at University Hospital, Madison. She received her undergraduate degree from Rutgers University in NJ, completed medical school at New Jersey Medical School in Newark, NJ,  residency training in general adult psychiatry at the Zucker Hillside Hospital in Queens, NY and a fellowship in psychosomatic medicine at Massachusetts General Hospital in Boston, MA. She is board-certified in psychiatry and consultation-liaison psychiatry. Her clinical interests include consultation psychiatry, complex medical illness (including traumatic brain injury, catatonia, and neurological disorders), pain disorders, and clinician education. She currently serves as a resident mentor and has started organizing the Wisconsin Psychiatric Association resident vignette competition. She is a member of Wisconsin Psychiatric Association, American Psychiatric Association, Academy of Consultation-Liaison Psychiatry and American Academy of Pain Medicine.