Nancy Raymond, M.D.
Position title: Professor (Tenure Track)
Address:
Behavioral Health and Recovery Clinic
1102 S. Park Street, Madison, WI 53715
UW Health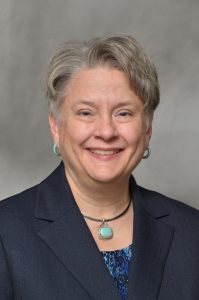 Nancy Raymond, MD is a Professor in the Department of Psychiatry and Associate Dean for Faculty Affairs and Development at University of Wisconsin—Madison School of Medicine and Public Health. She joined the at the UW Madison, SMPH in 2017. In her role as Associate Dean she is responsible for implementing professional development programming designed to advance the careers of faculty on all tracks and on all the SMPH campuses. The mission of her office is to foster a healthy and supportive learning, research and clinical environment for all stakeholders by ensuring that SMPH faculty have the resources, skills and competencies they require to lead successful and fulfilling professional lives. She practices clinically at Behavioral Health and Recovery one day a week and supervises resident at WisPIC one half day a week. She also serves on the Psychiatry Department's Wellness Committee.
Prior to coming to Madison, she was a Professor in the Psychiatry Department at the University of Minnesota Medical School and on the faculty of the Program in Human Sexuality (PHS) in the Department of Family Medicine and Community Health. Over the course of her research career, she has focused on disorders where control of urges to engage in problematic behavior is a central feature of the disorder. Initially she focused her work on bulimia nervosa and binge eating disorder. Upon joining the faculty of the PHS, she became interested in the how compulsivity, impulsivity and control over problematic urges played a role in compulsive sexual behavior (CSB) and paraphilias. With collaborators Michael Miner, PhD and Eli Coleman, PhD she has published on the nature of CSB and the novel use of naltrexone to decrease urges to engage in problematic behaviors. She also served as the Principal Investigator of the Building Interdisciplinary Careers in Women's Health (BIRCWH) K-12 training grant through three successful submissions and has mentored numerous junior faculty to become successful women's health researchers.
---
Specialties:
Depression/Anxiety
Behavioral addictions
Eating disorders
---
Publications: 
---