Erri Hewitt, Ph.D.
Position title: Vice Chair of Equity and Anti-Racism; Assistant Professor (Clinical Track)
Address:
Behavioral Health and Recovery Clinic
1102 S. Park Street, Madison, WI 53715
UW Health

UW Health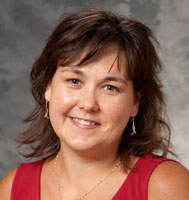 Erri Hewitt is a Clinical Assistant Professor in the Department of Psychiatry at the University of Wisconsin-Madison.  She is a licensed clinical psychologist in Wisconsin who balances her research training (MS in sociology focused on health care interventions and PhD in developmental psychology) with her clinical training (Certificate of Respecialization in Clinic Psychology) to serve patients, trainees, and colleagues.  She works with patients and their families throughout the lifespan to help them optimize their mental health and wellbeing by offering them scientifically-supported approaches to mental health care that are tailored to their individual needs. Erri specializes in working with women in the pre- and postpartum periods, children and families coping with emotion and behavior problems, and people who are adjusting to chronic illness and injuries. Erri has experience with cognitive-behavior therapy, dialectical behavior therapy, and parent-child psychotherapy. In addition to directly working with patients, Erri lectures on mental health care and teaches psychiatry residents and psychology interns at the University of Wisconsin School of Medicine and Public Health.