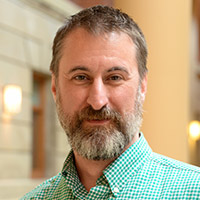 Dr. Brown's primary interests revolve around the treatment and prevention of substance use disorders and their complications in settings outside of the specialist treatment environment (such as primary care, hospitals, pharmacies, and criminal justice settings). He enjoys patient care, teaching, and conducting research in these areas. He is Board Certified in Family Medicine and in Addiction Medicine.
After family medicine residency, Dr. Brown served as faculty at the Stanislaus County Family Practice Residency where he was also Medical Director of Stanislaus County's methadone treatment facility. Dr. Brown came to Madison in 2001 to participate in the NIH/NRSA Primary Care Research Fellowship, with focus on addiction health services research, and he attained a PhD in UW's Dept of Population Health Sciences in 2009. His current research includes investigations in opioid misuse prevention, mobile technology to support recovery, promotion of medication prescribing for alcohol use and opioid use disorders in primary care, and potential therapeutic applications of psilocybin and MDMA.
He serves as a consulting physician in addiction medicine at UW Hospital (where he is the Director of the Center for Addictive Disorders), William S. Middleton Memorial Veterans Hospital, the UWHC HIV/AIDS Clinic, and at Access Community Health Centers. He has been a certified prescriber of buprenorphine as adjunctive treatment for opioid dependence since 2001. Dr. Brown is also the Founding Director of the UW Addiction Medicine Fellowship Program, the Director of the UW SMPH fourth year Clinical Addiction Elective, and the Medical Director of the Overdose Prevention Program of the AIDS Resource Center of Wisconsin.
He is a Director of the American Board of Addiction Medicine and the Addiction Medicine Foundation; and the President of the Addiction Medicine Fellowship Directors' Association.