Heather C. Abercrombie, Ph.D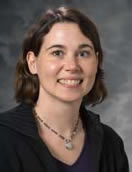 I am a Clinical Psychologist and Associate Professor in the UW Department of Psychiatry. My research focuses on biological aspects of stress, learning, and depression.
The 'stress hormone' cortisol has robust effects on memory and learning. However, many factors alter cortisol's effects on learning. Our lab studies how inter-individual differences (e.g., affective style, history of early loss) alter cortisol's effects on emotional learning. In addition, we study how cortisol's effects on the neural circuitry of emotional learning play a role in depression.
We are currently conducting research funded by NIMH and NARSAD examining the neurocognitive effects of cortisol in women with depression and/or early life adversity. Neuroimaging and molecular genetic methods are used to examine moderators of cortisol's effects on neural activity and emotional memory.
Biology of Psychopathology Seminar: 2003 | 2004 | 2006 | 2007 | 2008 | 2009 | 2010 | 2011 | 2012 | 2013 | 2014 | 2015 | 2016 | 2017 | 2018
Mood & Memory Laboratory
University of Wisconsin - Madison
Department of Psychiatry
6001 Research Park Blvd.
Madison, WI 53719
(608) 263-6114